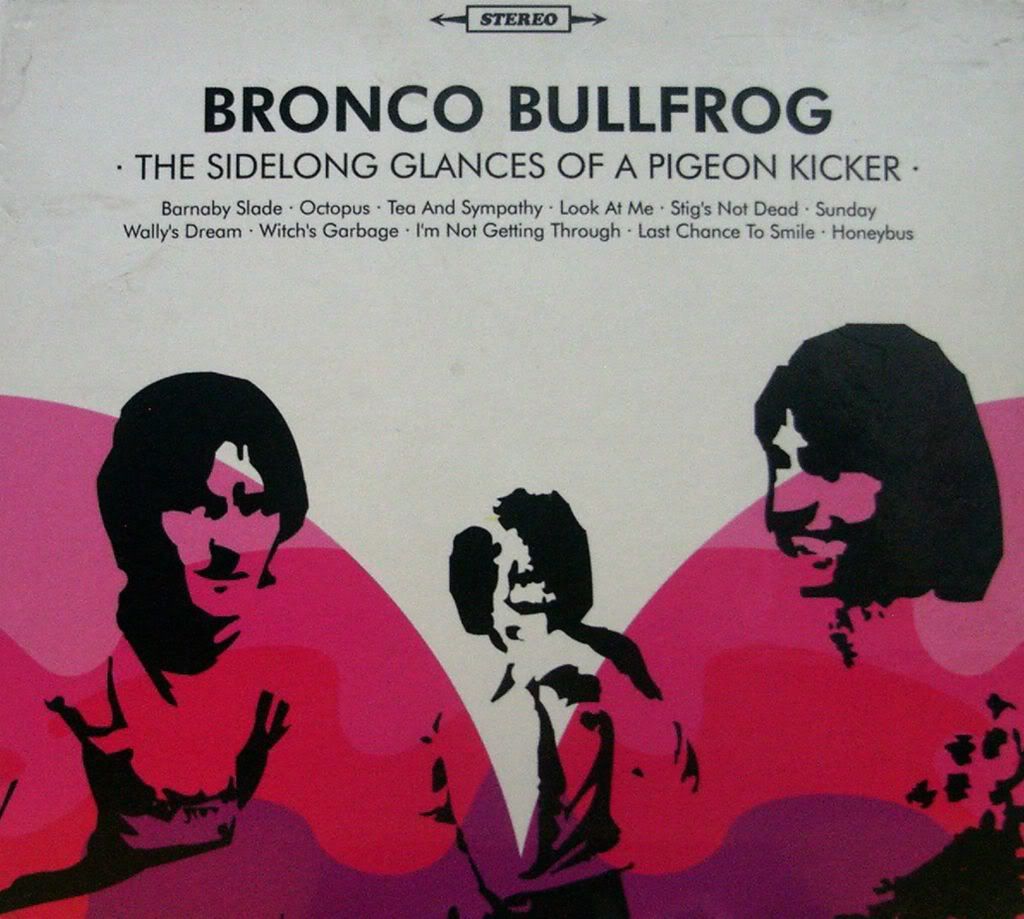 Ficuscactus
envia:
Tercer album del trio de Londres formado por Michael Poulson, Louis Wigget y Andy Morten.
Bronco bullfrog es un nombre sacado de una pelicula homonima de finales de los sesenta, dirigida por Barney Platts Mills. Y el titulo del disco "The Sidelong Glances of a Pigeon Kicker" (algo así como "Las miradas laterales de un pateador de palomas"), hace referencia a un libro del escritor norteamericano Peter Boyer. "Nos encanta robar nombres", dijeron en su día.
El de este grupo, es un caso parecido al de Gigolo Aunts y muchas otras bandas que tuvieron que abandonar su tierra para que se reconociese su trabajo.
Musicalmente se declaran fervientes seguidores de Badfinger y declaran que: "Todo aquel que no tenga la discografia completa de Beatles, no tiene derecho ni a respirar".
Apasionados de la decada de los sesenta, Bronco Bullfrog revisitan el espectro de bandas como Zombies o The Who, y lo transforman en algo nuevo
Segun palabras del propio Louis Wigget: "Yo diría que hacemos música pop potente. Pero es verdad que si quieres poner una etiqueta, la de power-pop es la que más cerca esta de nuestro sonido".
A mi sin embargo me parece que hay más de esencia mod y de revival hecho con criterio, que de power pop en su música.
Tras sus dos trabajos anteriores, "Bronco Bullfrog" y "Seventhirtyeight",publicados por jllopez en esta pagina. El sonido de este trio encontró el equilibrio perfecto entre la melodia y la complejidad de sus composiciones. Podriamos decir que este album es mas optimista y luminoso que sus predecesores.
Esta banda aglutina la esencia pop de los sesenta. "Sunday" recuerda mucho a la compleja estructura de "A Quick One While He's Away" de Who. "Barnaby Slade" es un himno mod que perfectamente podrían haber firmado The Move. Y la inmediatez y belleza de canciones como "Last Chance To Smile" o "Stig's Not Dead", te transportan a otra época.
En definitiva un album tanto para amantes del genero retro, como los que buscan otro tipo de sonidos.
Que lo disfruteis.
Bronco Bullfrog - The Sidelong Glances Of A Pigeon Kicker (2002 Uk Pop)