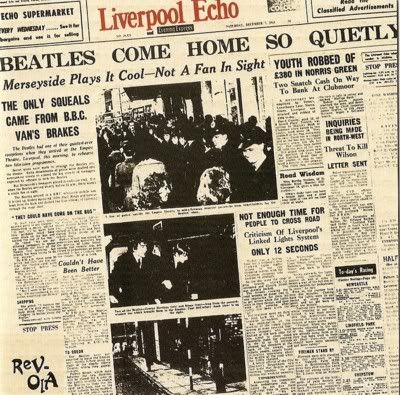 Jllopez
envia:
Rarísimo disco de 1973 (2000 copias) reeditado por Rev-Ola, en que el dúo Martin Briley y Brian Engel (ambos ex-Mandrake Paddle Steamer y futuros Hitmakers) reinventaron el Merseybeat en plena era sinfónica. Ambos se iniciaron en los años 60 en la banda inglesa mod-psych "The Syn", tocando en el famoso Marquee Club las noches de los martes, abriendo para grupos como Pink Floyd y Jimi Hendrix.
En ese año grabaron un álbum como "The Liverpool Echo" junto con Clem Cattini (batería) y Herbie Flowers (bajo) y producido por Andrew Pryce Jackman (teclados). La idea era escribir una docena de canciones que evocasen el espíritu y la energía del Merseybeat Sound. En estos días se llamaría Power-Pop entonces se consideró una aberración.
Por aquellos años la gente comenzó a aburrirse de la convencional música rock (un aburrimiento que culminaría en la revolución punk de 1976), además de la nostalgia por The Beatles. Andrew Pryce Jackman, ex teclista con "The Syn", arreglista y productor, llamó a su amigo Martin Briley para grabar un nuevo álbum que capturase la energía y la excitación de esas primeras bandas Merseybeat tales como The Beatles, The Merseybeats, Gerry & The Pacemakers y The Searchers. Y así fue como el espíritu de la época del sonido Mersey renació una década más tarde por tres músicos que ni siquiera eran de Liverpool.
Martin Briley ha colaborado posteriormente como vocalista y guitarrista de sesion en grabaciones de Julian Lennon, Bonnie Tyler, Neil Sedaka, The Modern Jazz Quartet, Engelbert Humperdinck, Lulu, Mick Jones, Donna Summer, Dan Huff, Cliff Richard, Charlie Pride, Olivia Newton-John, Johnny Mathis, Michel Legrand, The Hollies, Anton Fig, Chris Squire, Meatloaf, Tom Jones, Albert Hammond, Ian Hunter , Mick Ronson, Andy Williams, Jim Steinman, Charles Aznavour y Jimmy Webb.
Pero el éxito en solitario no llegaría hasta los años 80 con el hit "Salt In My Tears". Sus canciones han sido grabadas por Celine Dion, Dream, Michael Bolton, Kenny Loggins, Pat Benatar, Jessica Andrews, 5-Star, Jeff Healey, Rebecca St. James, Nana Mouskouri, Willy Nile, Gregg Allman y Barry Manilow. Recientemente fue galardonado con un premio RIAA por ventas mundiales de 8 millones de Celine Dion "A New Day Has Come".
Liverpool Echo-Liverpool Echo (1973 UK Merseybeat)