Polvorones para hoy
Enviado por Coscolin el Viernes, 20 de Diciembre del 2013 (6:52:16)
lisa murphy envía:
De Singuels Colechion CD 22 - 2013 - INT. - APE
El Volumen 22 lleva incorporado un ramillete de canciones realmente variado: Desengancha, Lujuria, Y Sharp, Beautyful 7, Survival, Solo Quiero Estar Contigo, Ciao Amigo, Jingle Fundador, Solo Soy Un Pobre Diablo, Rita, For Everyone, Ill Remember April, Was There A Call For Me, Beyond The Sea, It Aint Necessarily So, This World Today Is A Mess, Dreams Like Mine, Hot Shot, Old Memories, Los Managers, Bulerías De Menorca, Hold On, Where You Here, Last Train To London,Last Train To London, Goody Goody Gumdrops y Candy Kisses.
Temas de grupos tales como: Muro, Osibisa, Ángeles Azules, Yes, Bobby Darin, Donna Hightower, Herman Brood And His Wild Romance, Pata Negra, Mocedades, Electric Light Orchestra y 1910 Fruitgum Co.
Y todos ellos son chingueles ripeados, en esta ocasión por: Chuan, Napiato, Psicodelia y Unodel53. Un lujo para los sentidos, que esperamos disfrutéis
brakaman envía:
Javirunner, nos envíó esta joya.
Genesis - Foxtrot (1972) (94 Rem Japan VJCP-3209.Obi) by javirunner 1PocodMusica
Edición digital remasterizada que se lanzó en CD en 1994 en Japón.
Foxtrot (En español: La Danza Del Zorro) es el cuarto álbum de Genesis, y el segundo tras la llegada de Phil Collins y Steve Hackett al grupo, fue grabado y publicado durante el año 1972, cuando la carrera de la banda se encontraba en ascenso.
Foxtrot fue el primer álbum de Genesis en ingresar en las listas de éxitos del Reino Unido, alcanzando el puesto #12 y marcó el punto de partida para una larga y exitosa carrera para el grupo.
Foxtrot se convertiría en un clásico de las primeras épocas de Genesis. En él se desarrollan los conceptos musicales que ya se habían definido en el anterior trabajo. Destaca el último tema, Supper's Ready, de más de 20 minutos de duración, que colocaba a Genesis como uno de los más importantes grupos progresivos de la época, junto a bandas como King Crimson, Yes o Pink Floyd.
jmromerob envía:
YO LA TENGO - Fade - 2013 - USA - Indie-Rock - 320 Kbps
Ira Kaplan y Georgia Hubley, marido y mujer, forman la banda el año 1984 y en estos momentos el tercer
El nombre del grupo proviene de una anécdota del béisbol. Durante la temporada del año 1962, el jugador de los New York Mets, Richie Ashburn chocaba constantemente con su compañero venezolano Elio Chacón. Cada vez que Ashburn corría para atrapar la pelota, lo hacía gritando «I got it! I got it!» sólo para terminar chocando con los 73 kilos de Chacón que no entendía inglés. Ashburn, aburrido, aprendió a decir «¡Yo la tengo! ¡Yo la tengo!». En un juego, tras gritar «¡Yo la tengo!» vio feliz cómo su compañero Chacón se detenía. Corrió tranquilamente a detener la bola cuando chocó con los 91 kilos de su compañero Frank Thomas, quien no hablaba español. Tras esto, Thomas le preguntó a Ashburn qué significaba «Yellow Tango».
Fade se lanza en enero de 2013 y pretende recordar sonidos de trabajos previos, los del cambio de siglo como I Can Hear the Heart Beating as One de 1997 o And Then Nothing Turned Itself Inside-Out de 2000 donde alcanzaron según muchos su momento más álgido.
Jerry envía:
BARRY MELTON - We Are Like The Ocean - 1978 - USA - 320 Kbps
Jerry nos envía un disco dificil de encontrar y para seguidores de Country Joe and The Fish , ya que se trata de de Barry Melton cofundador con Country Joe, de los Fish.
Este disco es más acústico y digamos que "tranquilo".
brakaman envia:
ORANGE HUMBLE BAND, THE - Assorted Creams - 1997 - AUS/USA - 1997 - Power Pop - 320 Kbps
Recuperado de Emule, con más de 360 bajadas. Eran otros tiempos, ...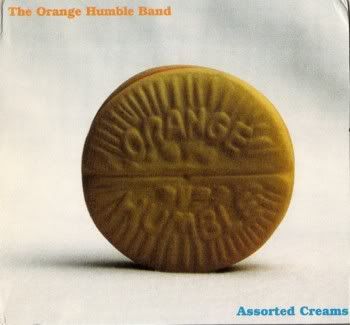 Jllopez decía,
La otra mitad de The Someloves, Darryl Mather, formó parte en 1997 de otro supergrupo "The Orange Humble Band".
En esta ocasión le acompañaron Ken Stringfellow (The Posies, Big Star), Anthony Bautovich (The Lonely Hearts, Coronet Blue, The Forrester), Spooner Oldham (Dan Penn, Aretha Franklin, Neil Young), Jim Dickinson (pianista y productor de Alex Chilton, Rolling Stones, Flamin Groovies, Aretha Franklin, Golden Smog) y Jody Stephens (Big Star, Golden Smog), entre otros.
Grabaron dos estupendos discos de estudio.