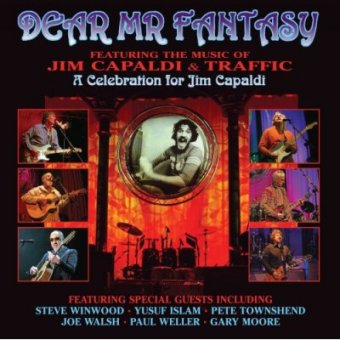 Knos5
envia:
Gran homenaje a Jim Capaldi, contando con las colaboraciones de grandes de la música que contribuyen a rememorar el espíritu de este gran músico.
Various Artists: Dear Mr. Fantasy: A Celebration for Jim Capaldi
The rockers who graced the stage of London's Roundhouse in January 2007 may look a little older and move a little slower, but they still exude more class than many of their younger peers. Collectively these men and women — Steve Winwood, Pete Townshend, Joe Walsh, Jon Lord, Paul Weller, Bill Wyman, Simon Kirke, Gary More and Yusef Islam, among them — gathered to honor one of rock's greatest unsung songwriters in Jim Capaldi. Traffic's founding drummer, who died from stomach cancer in 2005, penned some of that band's most memorable and famous songs ("Paper Sun," "Dear Mr. Fantasy," "John Barleycorn Must Die"), as well as collaborated with George Harrison, Eric Clapton, Carlos Santana and the Eagles (on "Love Will Keep Us Alive," which closes this set).
Featuring a house band led by longtime Billy Joel bandmate Mark Rivera, as well as Kirke, respected and ageless percussionist Ray Cooper and four other players, the Dear Mr. Fantasy concert features a revolving lineup of lead singers (some of whom obviously are reading lyrics from a teleprompter). Winwood – who formed Traffic with Capaldi in 1967 – should have been on stage for the majority of the evening, rather than just for select songs, and fellow Traffic jammer Dave Mason is conspicuously absent. But the evening still looks like a success, with Walsh and Weller sounding particularly impressive. The trio of backing singers (Margo Buchanan, Stevie Lange and Dennis Locorriere) steals the show, however, with some of the evening's most impassioned performances.
Dear Mr. Fantasy (also available on CD) is a fitting tribute that only magnifies the need for a career-spanning Capaldi anthology. Surely, the man deserves at least that much…
Dear Mr. Fantasy - A Celebration For Jim Capaldi 2007 (2cd's)