Publicado por Coscolin el Miércoles, 30 de Octubre del 2013 (12:26:06)
Sunnyland Slim Blues Band Special Guest Carey Bell, Dan Modlin & Dave Scott, Graham Nash, David Jackson, Guy Evans, Hugh Banton & Friends, Jay Willie Blues Band
Lisa murphy envía:
Sunnyland Slim Blues Band - Decoration Day * January 23th, 1980 * Special Guest Carey Bell.
Si no por desconocido, valga aquí la presencia de Sunnyland Slim por longevo patriarca del Chicago-Piano. El disco es un ripeo de mi Lp, al que no puedo acompañar de las fotos en este momento. En 1994 se editó este disco en Cd, con un buen número de temas añadidos, pero no es la presente edición. Adjunto portadas bajadas de la red.
Unas pinceladas de su biografía:
Nacido en Mississippi y bautizado como Albert Luandrew, recibió sus primeras nociones de música en un harmonium. Después de un duro entretenimiento en garitos y salas de cine en el Delta, Luandrew fijó su base de operaciones durante la década de los años 20 en Memphis, tocando frecuentemente en la Beale Street. Adoptó su nombre artístico del título de una de sus más conocidas canciones, la triste "Sunnyland Train" ( La pieza pesimista inmortalizó la velocidad y la potencia mortal de una locomotora de St. Louis a Memphis, que segó las vidas de muchas personas que tuvieron la desgracia de cruzar las vías en el momento equivocado).
Thunderoad envía:
Reseña de Fr4n
Dan Modlin & Dave Scott - The Train Don't Stop Here Anymore (1976)
Folk-rock,Pop, ligeramente psych, un poco country-rock . . . no es un disco fácil de definir, pero sí un grandioso álbum con buenas canciones y una producción espectacular que te hará creer que estás ante una gran banda en lugar de una desconocida.
Editado en 1976 por el sello de Indiana 700 West, este es un disco que rara vez aparece en original y, como reza el libro Acid Archives, "Es muy, muy bueno".
jmromerob envía:
Tercer trabajo en solitario en 1980 de Graham Nash tras "Songs for beginners" (1971) y "Wild tales" (1973) que tuvo bastante menos éxito que sus predecesores.
El disco lo mandé a en su día a 128 y bajado canción por canción, con bastante ruido. Sigo sin haberlo podido comprar, pero lo he encontrado en buena calidad (a 320). Lo he vuelto a comprimir y subir al servidor para que lo disfrutéis.
brakaman envia:
Comentario de THUNDEROAD:
David Jackson, Guy Evans, Hugh Banton & Friends - The Long Hello (1974)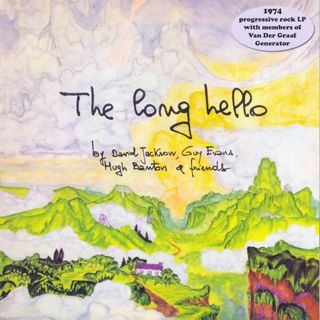 Un tiempo antes que los Van der Graaf Generator fueran disueltos por su líder, Peter Hammill, varios de sus integrantes, entré ellos David Jackson, Hugh Banton y Guy Evans se largaron con este "The Long Hello" en el 74. En el mismo tiempo también fue la partida de otros dos ex VDGG, el bajista Nic Potter y Hugh Banton, que ofició de productor del disco.
En una atmósfera relajante y melódica, el álbum transcurre en una amalgama de flauta, saxo y guitarra clásica, que nos hace evocar los primeros tiempos de la legendaria banda de rock progresivo. Por desgracia, este registro fue menospreciado en su momento ya que solo se editó en Italia (donde los Van der Graaf Generator gozaban de una gran repercusión) y dos años más tarde pudo ver la luz en el Reino Unido, aunque con apenas 5000 copias de edición limitada.
Este sería el único documento de este trío, porque jamás pudieron volver a trabajar juntos con este proyecto .
elpacon envia:
Jay Willie Blues Band es un grupo que tiene su base en la zona de New England, donde desde hace ya más de diez años, se les puede ver regularmente actuando en los bares, clubs y festivales.
Los conocí en 2011 al escuchar aquel The Real Deal que tan buen sabor de boca me dejó, aunque luego supe que su nacimiento se remontaba a 2001, cuando se juntaron Jay Willie (guitarra slide, armónica y voz) el gran Bobby T Torello (batería y antiguo componente de la banda de Johnny Winter) y Bob Callahan (guitarra, bajo, teclados y voz y asimismo ex-componente de, entre otras, la banda de James Cotton). En aquel disco, además, intervenía Tommy Shannon, otro viejo conocido por sus andanzas con Stevie Ray Vaughan y sus Double Trouble, completando un trabajo excelente al más puro blues tejano tal y como sus orígenes musicales no podían por menos que transmitir.
Con este nuevo disco mantienen firmemente esa línea, aunque ya no está Tommy Shannon, pero incorporan en algunos temas al controvertido y genial Jason Ricci a la armónica y en el primer corte a una cantante que no tengo el gusto de conocer, llamada Marlou Zandvliet, que al parecer descubrieron buceando en el mar de YouTube.
Blues tejano potente, marcado, con inconfundibles aromas a Johnny Winter y SRV, mezclando temas propios con versiones de clásicos (Muddy Waters, James B. Oden, Jimmy Rogers).